The next big thing on U Street: Replacing Portner Place apartments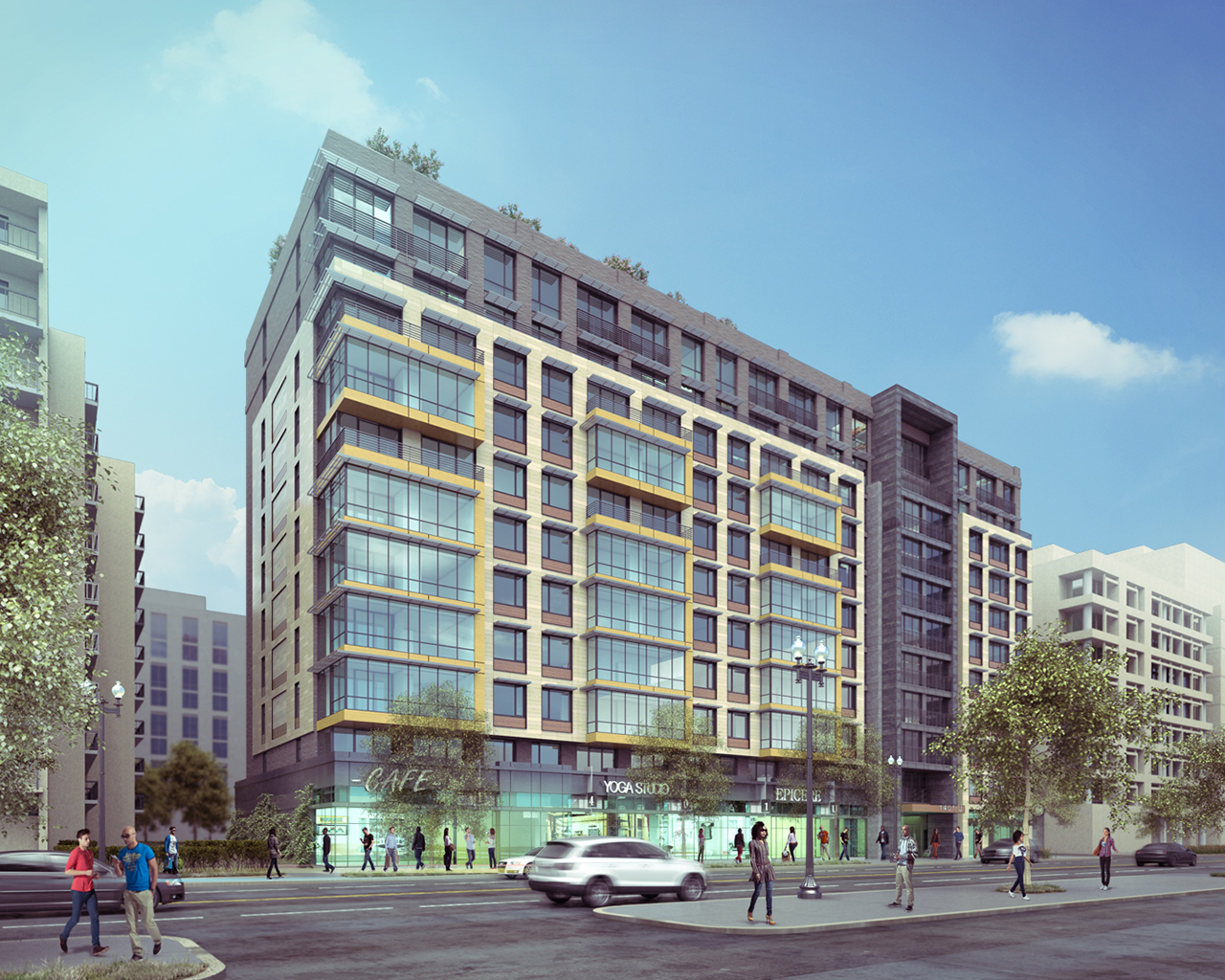 Michael Neibauer | Washington Business Journal
The end is near for Portner Place, a Section 8 housing complex in the heart of the booming U Street corridor.
Somerset Development Co. and the Jonathan Rose Cos. have jointly submitted their plans to replace the four-story, subsidized Portner Place apartments, located between U, V, 14th and 15th streets NW, with a two-winged building and ground floor retail, a project that will add new affordable housing and additional market-rate housing to U Street.
With partners Jonathan Rose, New Community Partners and the Rose Green Cities Fund, Somerset acquired the 48-unit Section 8 housing complex — comprising three garden-style buildings set back from the street and surface parking lots — last September for $16.15 million. The 1.1-acre complex will be razed and replaced with a single building featuring two "wings" and 366 new apartment units, designed by Eric Colbert & Associates.
The site is two blocks from the U Street Metro station and immediately west of the D.C.-owned Reeves Center, which may be swapped with, and redeveloped by, Akridge as part of the D.C. United stadium deal.
Somerset officials declined comment for this story.
"Redevelopment of the subject property will transform the existing Portner Place Apartment complex, which is in a deteriorated condition, into a mixed-income community that incorporates newly constructed affordable and market-rate housing into a single building," according to the planned-unit development application, filed with the D.C. Zoning Commission on May 23.
"Wing B," fronting the 1400 block of U Street, is where Somerset and Jonathan Rose will make their money — a 230,917-square-foot, 11-floor market-rate building with 270 units and nearly 15,000 square feet of retail on two floors. This wing will include a ground floor fitness room, yoga and cross-training studio and club room.
The 91,012-square-foot, eight floor "Wing A," fronting V Street, will include 96 affordable units marketed to those earning at or below 60 percent of the area median income. This is where Portner Place residents will be relocated. The affordable project will be partially subsidized by the District, while the U.S. Department of Housing and Urban Development will maintain its housing subsidy "through a pass-through contract."
Somerset will offer temporary housing to all current Portner Place residents as close as possible to the existing complex, and will later offer all residents the opportunity to move back in to the new affordable building. The overall project will replace the existing affordable units on a two-to-one ratio.
In the application, Somerset and Jonathan Rose explain why they are separating affordable from market-rate — usually a no-go for regulators. The current Portner Place residents, they say, asked to be apart, to maintain the "family-oriented unit size and mix," to ensure a less active V Street entrance, and to "maintain the Section 8 subsidy." The affordable building will also have different amenities, such as a computer room and family-friendly community spaces, than the market-rate wing.
"Redevelopment of the site provides a unique opportunity to expand affordable housing, along with new market-rate housing and retail/commercial opportunities, in the vibrant U Street neighborhood, one of the strongest residential submarkets in Washington, D.C.," according to the application.