JBG, partner plan huge mixed-use development in Eckington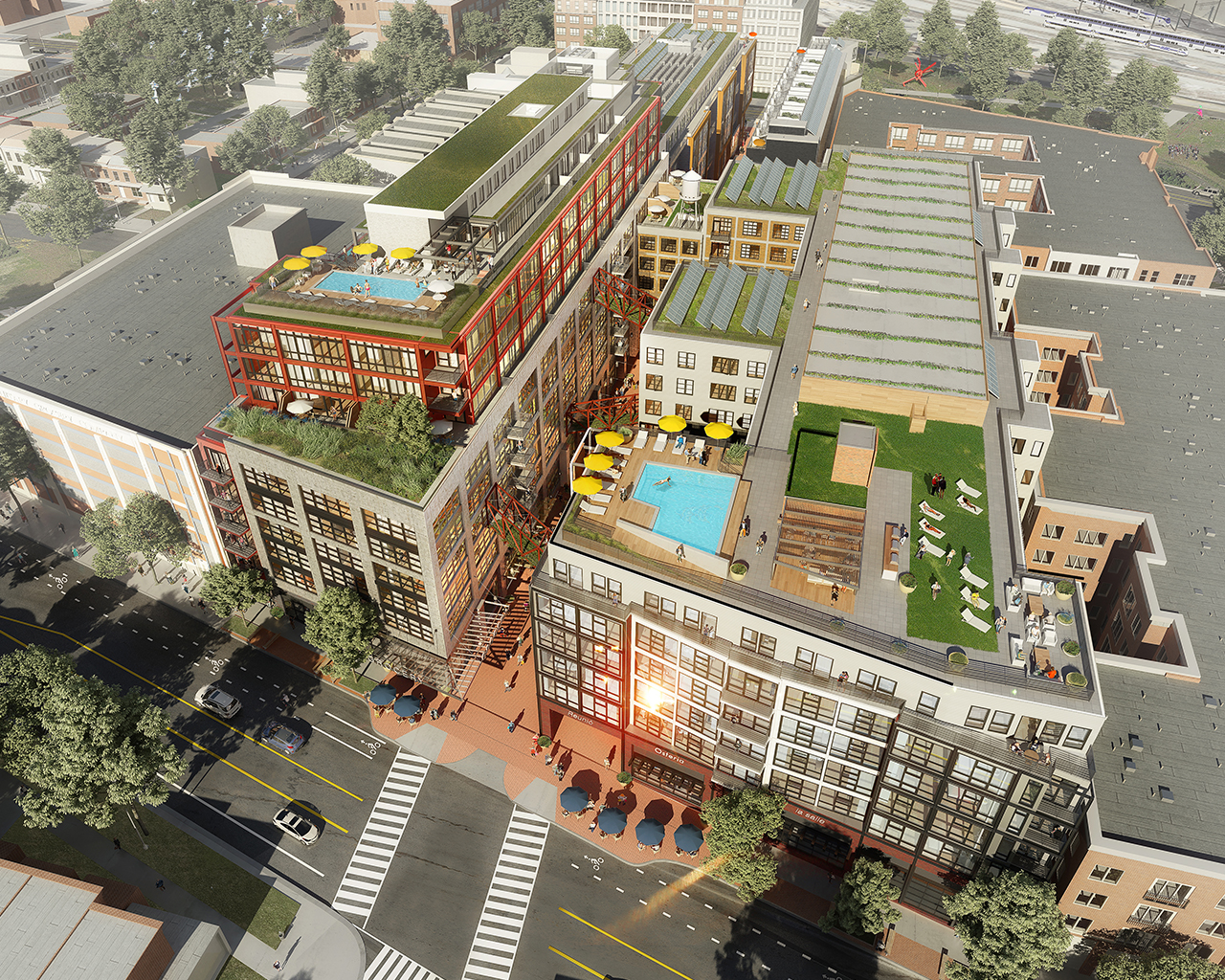 Michael Neibauer | Washington Business Journal
The JBG Cos., with joint-venture partner The Boundary Companies, is proposing a mammoth mixed-use development in Eckington, just north of New York Avenue NE, that calls for four connected residential buildings and nearly 50,000 square feet of retail.
The 3.1-acre site near the New York Avenue-Florida Avenue intersection is currently dominated by surface parking lots and one and two-story commercial buildings, including the Washington Flower Center. JBG, with The Boundary Companies (led by former JBG employee John Wilkinson), is pitching four connected structures totaling 691 residential units, 49,400 square feet of retail and service uses, and 292 underground parking spaces.
The planned-unit development application was submitted to the D.C. Zoning Commission on Wednesday. The site is bounded by Harry Thomas Way, Eckington Place and Q Street NE, immediately north of the Trilogy NoMa development from Mill Creek Residential, and south of a self-storage building. It is part of the District's traditionally industrial Northeast, which, from NoMa to Union Market to Ivy City, has seen intense developer interest in recent years.
"The Project will act as an essential foundational element to the revitalization of the south portion of the Eckington neighborhood," according to the application. "It will be the next step of the redevelopment in the vicinity, allowing for a human-scaled approach to the development activity continuing north from NoMa while staying true to the character of the Eckington neighborhood and this particular location."
The four buildings will range in height and number of units. Flower Center North, the tallest of the structures, will rise to 110 feet and include 166 units over 35,000 square feet of commercial. Flower Center South will rise to 75 feet and contain 299 units over 14,400 square feet of commercial. State Farm North will rise to 75 feet and contain 181 units. And State Farm South will also rise to 75 feet and contain 45 units.
Roughly 50,000 square feet of residential will be set aside as affordable units.
The building design, by Eric Colbert & Associates, will "capture the feeling of the industrial architecture that was present on the site and is still visible along the nearby railroad tracks," per the application. A 638-foot-long promenade and plaza, what JBG and Boundary call a "woonerf," will bifurcate the site. On the lower levels of the project, the developers plan a 38,400-square-foot self-storage facility.
Boundary, headquartered in the same Chevy Chase office building as JBG, focuses on emerging neighborhoods and urban in-fill.