Hotel rooms out, apartments in at one JBG Smith D.C. development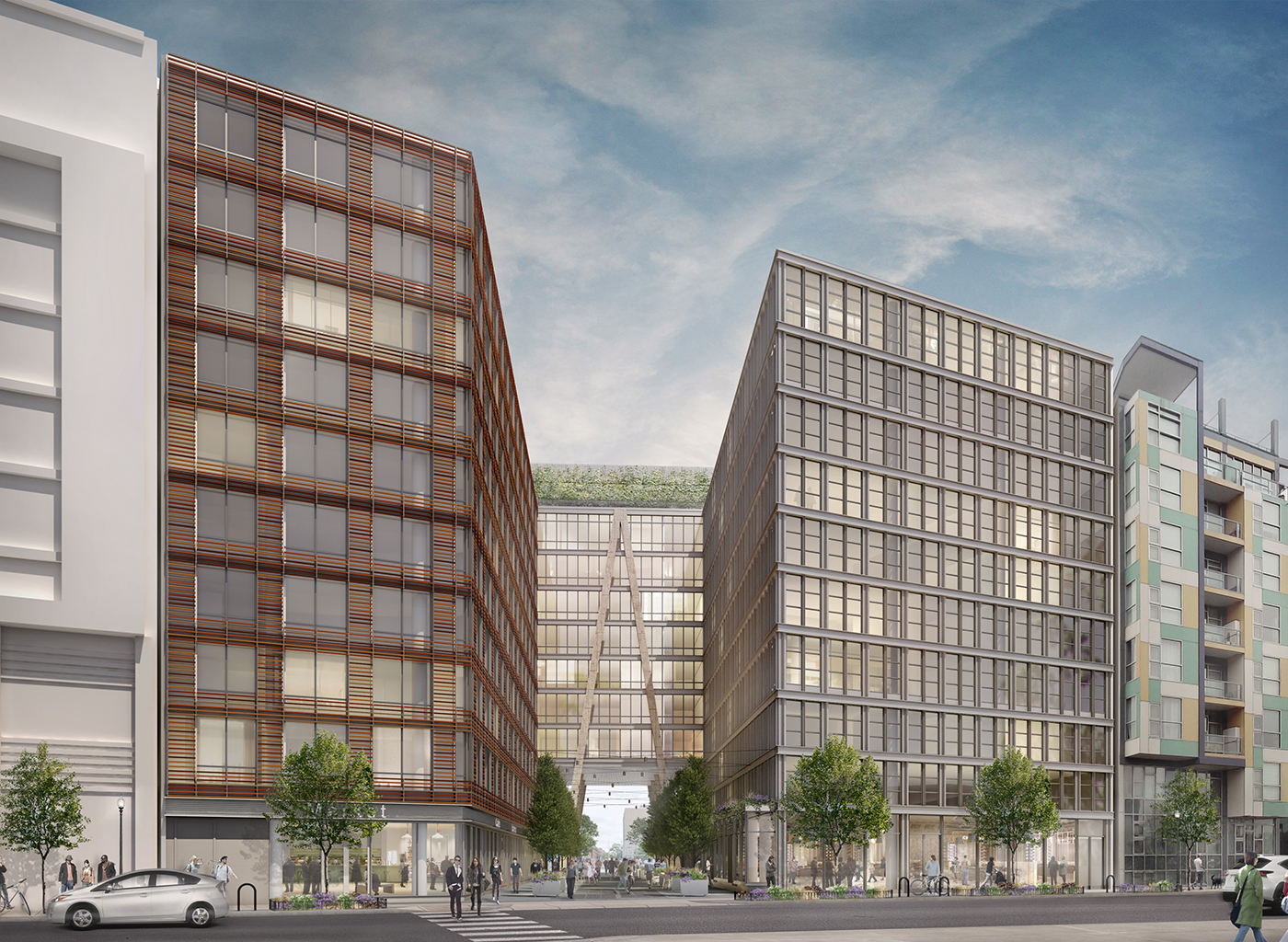 Daniel J. Sernovitz | Washington Business Journal
JBG Smith Properties (NYSE: JBGS) has called an audible for the latest piece of its Atlantic Plumbing redevelopment by Florida Avenue and 9th Street NW, nearly a decade after it acquired a trio of lots there.
D.C.'s Department of Consumer and Regulatory Affairs issued a building permit Sept. 2 authorizing the Bethesda-based developer to switch uses from hotel to residential for part of the 10-story building under construction at 945 Florida Ave. NW, according to permit information. The change applies to 95 units planned for the 256-unit building's south tower.
Through a spokesperson, JBG Smith declined to comment.
The permit information did not indicate the reason for the change, but it did note JBG Smith had contemplated other uses than hotel when it retained Eric Colbert & Associates PC and Morris Adjmi Architects to design the building. Per DCRA: "This change was anticipated during design and the current permitted documents were designed to the more stringent requirements of the two occupancies and do not require any modifications for this change in use."
It's a page from an older playbook The JBG Cos. drafted prior to its 2017 merger with Vornado Realty Trust's D.C. unit to form JBG Smith. It switched in 2015 from for-sale condos to rental apartments at the 91-unit Hatton at 1921 Eighth St. NW, for example. More recently, it made a similar condo-to-apartment change for units in its West Half project by Nationals Park.
The timing is notable given the impact the coronavirus has had on the hospitality industry, and it's reasonable to conclude that JBG Smith or its partners determined there was less demand for hotel rooms there than was initially projected.
The overall Atlantic Plumbing development resulted from a joining of forces, so to speak, between JBG Cos. and MRP Realty. The pair agreed in 2014 to work together on the planned development after the District picked MRP to develop 965 Florida Ave. NW, adjacent to JBG's properties. MRP's initial vision when it was selected included a Harris Teeter supermarket, a hotel, office and residential.
Atlantic Plumbing involves multiple projects developed over a number of years, starting with a 310-unit apartment building and a smaller, 61-unit condo building completed about five years ago at 2112 Eighth St. NW and 2030 Eighth St. NW. Then came 965 Florida Ave. NW, also known as The Wren, with 433 apartments above a Whole Foods Market that opened in July. The partnership of JBG Smith, MRP, Fundrise and Ellis Development broke ground on The Wren in 2017.