The 560 Units in Development Along 14th Street
UrbanTurf
Even as the residential development pipeline along 14th Street dwindles, there are still a handful of large developments along and around the corridor that once defined DC's development boom.
Today, UrbanTurf takes a look at the residential developments in the works along and adjacent to the 14th Street Corridor. If we missed a big project along this route, shoot us an email at editor(at)urbanturf.com.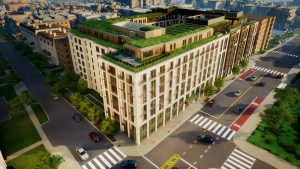 The Faircliff and NOVEL 14th Street
Two new residential developments — one affordable and one market-rate — are headed to Columbia Heights. The Faircliff, a 125-unit affordable housing project, and NOVEL 14th Street, a 197-unit market-rate development, broke ground at 2601 14th Street NW (map) last week. The two side-by-side projects will replace the former 80-unit Faircliff Plaza East apartment complex, quadrupling the total number of housing units on site.
The Faircliff, from Somerset Development Company, Jonathan Rose Companies and Housing Up, includes 80 affordable replacement units for former Faircliff Plaza East residents as well as 45 new affordable units available to households with income at or below 50% of Area Median Income. The project was designed by Eric Colbert & Associates.
The 197-unit NOVEL 14th Street, developed by Crescent Communities, will feature studios, one-bedroom, and two-bedroom apartments, as well as amenities, including a rooftop pool and clubhouse, courtyard, a gym with a treadwall and yoga room, multiple co-working rooms, and library. The first residences at the Hord Coplan Macht-designed building are expected to deliver in 2025.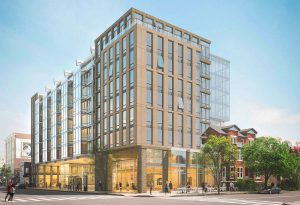 Temperance Mews at U Street Metro
Eastbanc and Jamestown are working on a major residential development slated for the land above the Metro station at 13th and U Streets NW (map). The development will deliver a 10-story building at the prominent corner, with 117-143 new residential units, retail, and 55-67 hotel rooms. There will also be 36 stacked duplex units along a "mews" greenspace in the public alley perpendicular to U Street.
The development will create a retail-framed plaza entrance to the Metro, and the mews would be open to the public for limited hours during the day. The development will also incorporate the façades of two contributing rowhouses on 13th Street. Shalom Baranes is the architect.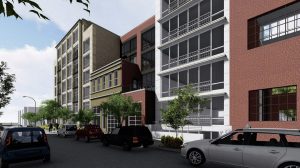 Holladay Corporation has plans for a six-story, 65-unit condo project at 1455 and 1457 Church Street NW (map). The development would incorporate the façades of two buildings and will include bi-level loft units as well as IZ. There will be a roof deck amenity, a bike room, and 19 below-grade parking spaces accessible from the alley. Eric Colbert & Associates is the architect.