Douglas Development Secures $107M to Build Takoma Park Apartments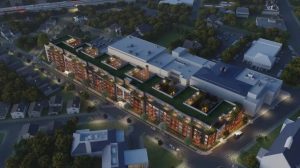 Keith Loria | Commercial Observer
Douglas Development has secured a $65 million construction loan and an additional $41.6 million in preferred equity for its upcoming multifamily project in the Takoma Park submarket of Washington, D.C., Commercial Observer has learned.
The company filed plans with the city in February of 2022 to replace two office buildings at 6830 and 6896 Laurel Street NW with a 354-unit multifamily project.
In securing the construction loan for the Takoma Park project, Douglas Development is ready to commence construction, the company said.
The $65 million construction loan was provided by United Bank, Sandy Spring Bank and Metropolitan Bank. The $41.6 million in preferred equity was sourced through EB5 Capital. The loan is on a four-year initial term in the 50 percent loan-to-cost range with maximum prepay flexibility.
"The favorable design and layout, diligent and persistent work with our tremendous general contractor on construction budgeting, stable market/submarket dynamics, nearby projects that allow for scale and opex [operational expenditure] efficiencies, and much more allows us to build, lease and operate a great, in-demand product before refinancing into something more permanent when the building's operations, movement in the capital markets and other factors align favorably," Norman Jemal, managing principal of Douglas Development, told CO.
The multifamily, LEED-certified development will complement historic Downtown Takoma Park. In addition to the financing partners on the deal, the project is designed by Eric Colbert & Associates with CBG Building Company serving as general contractor.
"With the exception of some smaller projects that have come online recently, most of the buildings in the submarket are dated," Jemal said. "This project will provide new, much-needed product with modern features, fixtures and amenities at affordable and market-rate pricing in an area easily accessible from multiple urban centers and the hospitals, universities and other businesses immediately surrounding the development."
Douglas Development has invested significantly in the submarket over the years, including the 102-unit Willow and Maple Apartments that was delivered in 2016 and is around the corner from the new development.
Sitework has commenced, and completion is slated for early 2025.