2M Apartments from developers WC Smith and the Warrenton Group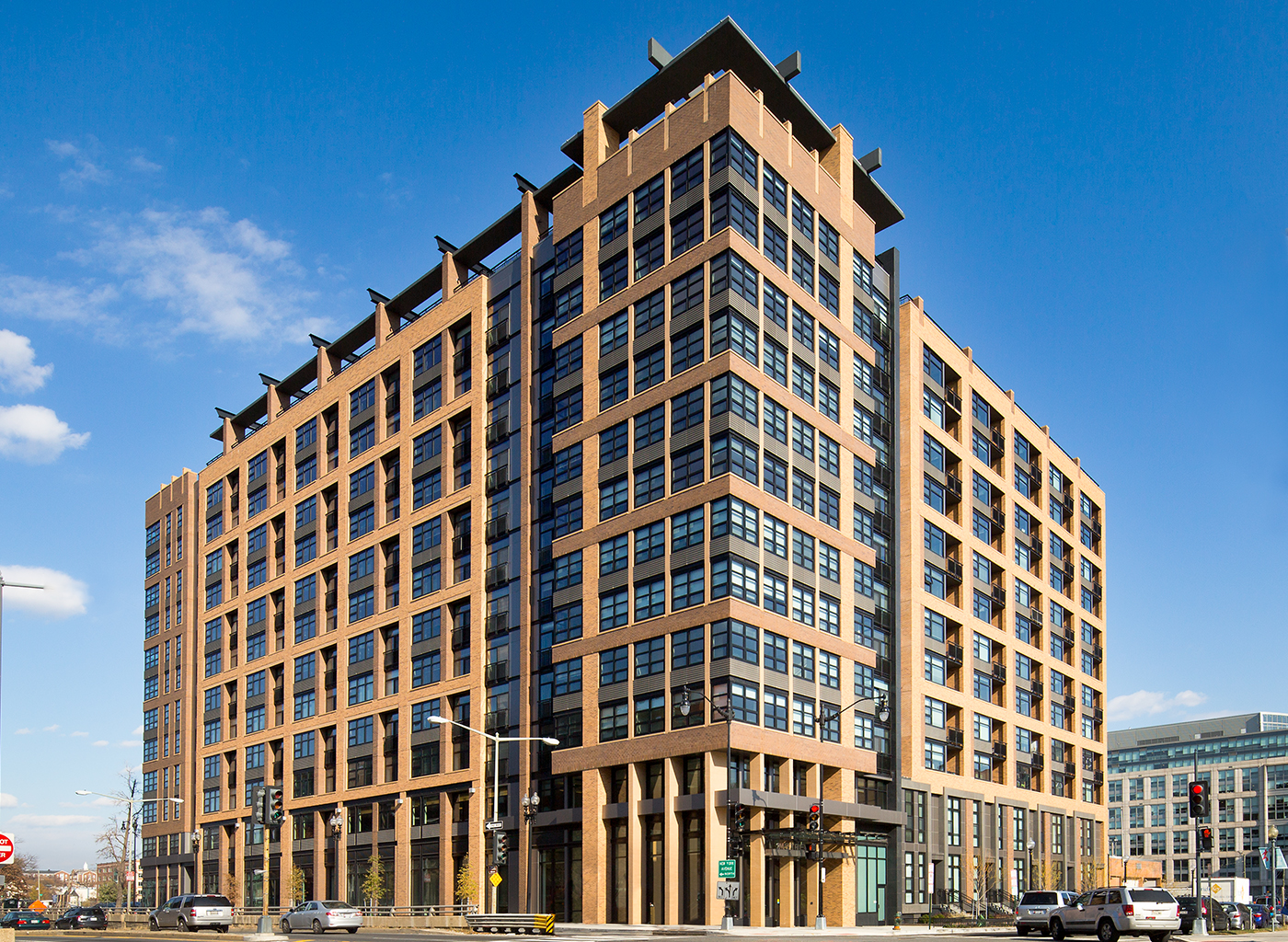 Deborah K. Dietsch | Washington Business Journal
2M is one of the only properties to be completed as part of the District's New Communities Initiative.
The 2M Apartments in Washington's NoMa district offers the frills expected of new residential buildings — a swimming pool, a fitness center, a dog park — and a unique amenity in an onsite pooch. Emmy, an English Bulldog, greets prospective renters, plays with residents and takes naps in a miniature version of the apartment house. At night, she goes home with the leasing manager, who lives in the building.
The idea of sharing a community pet was conceived to help the newly constructed 2M Apartments stand out from the competition. The 12-story modern building was developed through a joint-venture between WC Smith and the Warrenton Group on a site at M and North Capitol streets NE, two blocks from the NoMa-Gallaudet Metro station. Designed by D.C. architecture firm Eric Colbert and Associates to meet LEED Gold standards, 2M incorporates a range of sustainable features, including a planted roof, a rainwater harvesting system, a rooftop solar array, Energy Star appliances and electric car charging stations.
However, 2M's canine ambassador and green design are not its only distinctions from other residential projects in the neighborhood. What's unique about 2M is that it is one of the few buildings to be completed as part of the District's New Communities Initiative.
This ambitious and difficult-to-implement program was launched in 2005 to raze and redevelop the city's severely distressed public housing. The plan was to relocate residents from the older buildings to new, mixed-income units, rather than displace them. But striking deals to combine market-rate and affordable apartments, while providing offsite housing for tenants, proved difficult and stalled the initiative.
One of the troubled housing projects due for redevelopment, Temple Courts, shared the 2M site and was torn down in 2008. Construction on 2M began in 2011 and was completed in 2014. "Our extensive experience in public-private partnerships and affordable housing helped us successfully develop a mixed-income community at 2M," says Chris Smith, chairman and CEO of WC Smith. "Furthermore, the site was vacant when we began development. It had been used as a parking lot, so we did not have to relocate any residents."
Thirty percent of 2M's 314 apartments, which range from studios to three-bedroom units, are affordable. Of those 93 units, 34 have been leased by residents earning 60 percent of the area median income and 59 are rented by residents earning 30 percent of the median income. Since opening in September 2014, the building is about 82 percent leased.
Both the affordable and market-rate units are designed with the same open floor plans, fixtures and finishes, including granite countertops, stainless-steel appliances and floor-to-ceiling windows. All tenants can take advantage of the rooftop pool with Capitol views, café, indoor basketball court, outdoor grills, theater and game rooms, outdoor lounge area, business center and other amenities.
In addition, the project's contribution to local job creation is notable. D.C.-based general contractor WCS Construction exceeded local hiring and Certified Business Enterprise (CBE) requirements by hiring 52 District residents and 153 District residents transferred from other construction jobs winding down. Roughly 56 percent of the companies hired for the project were CBE firms from the District.
As for Emmy, she has her own Twitter account (@2Mpup) to spread the word about events in the building, including summertime yoga classes on the rooftop and games on the basketball court.