More retail, more detail on Level 2's planned Highline at Union Market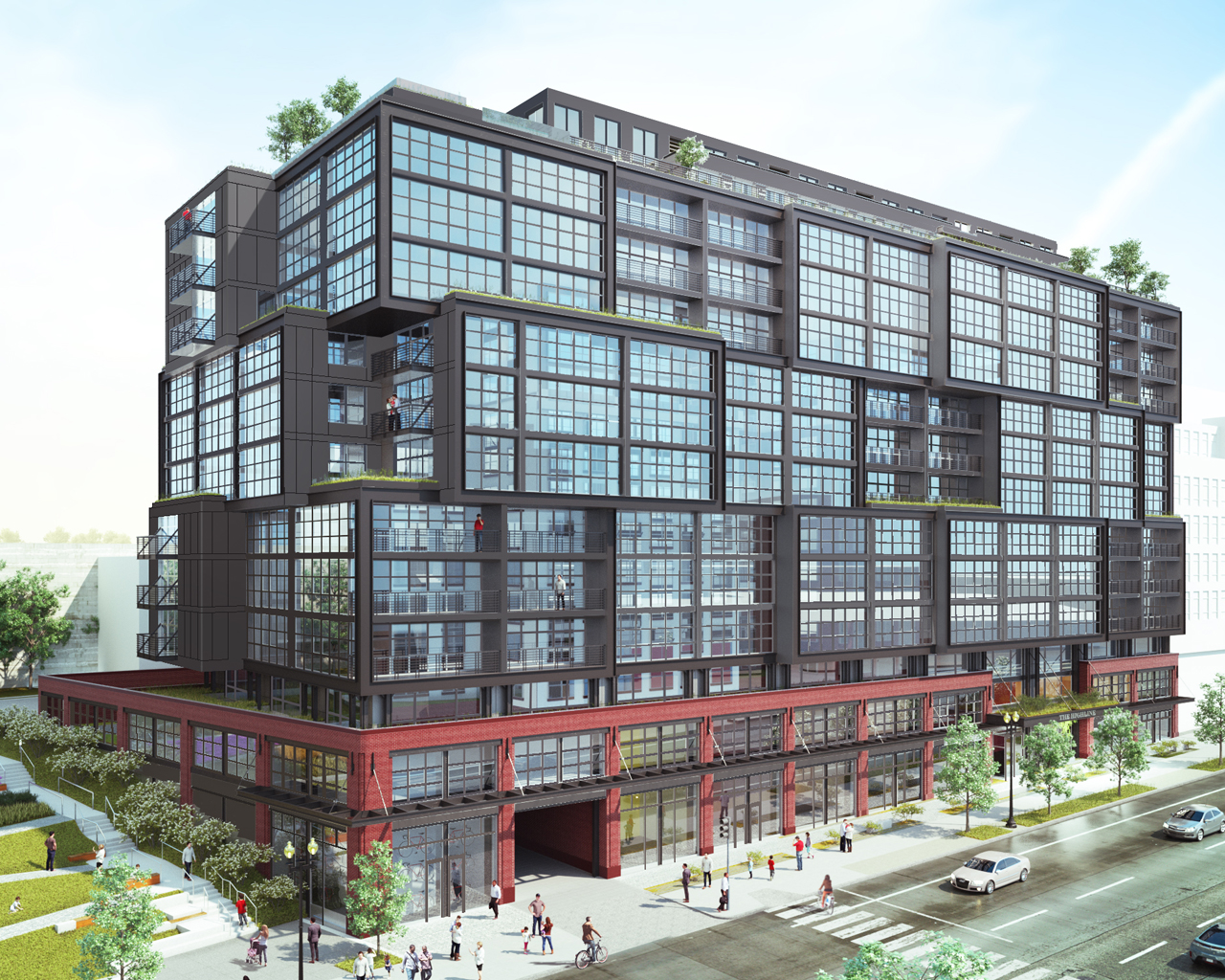 Michael Neibauer | Washington Business Journal
Level 2 Development, co-developer of the planned Highline at Union Market, has added more retail, increased the number of affordable units and provided more detail of a planned community park ahead of an upcoming public hearing.
The planned-unit development application for the $90 million-plus project at 320 Florida Ave. NE was filed in January. The project has been twice revised, the latest coming on May 15. The site, which borders the NoMa and Union Market districts, is currently home to a Burger King.
Designed by Eric Colbert & Associates to pay homage to New York's Meatpacking District, the 315-unit Highline will now offer 9,880 square feet of ground-floor retail, up from the 8,500 square feet that Level 2, with joint venture partner Clark Enterprises Inc., originally proposed.
The building's entrance has been relocated 50 feet to the west. Its north facade was changed from brick to metal panel. The number of affordable units was bumped up to 26, though 13 of those for households earning no more than 50 percent of the area median income, will be located off-site. Level 2 has agreed to contribute $1.4 million to Habitat for Humanity for the construction of 13 affordable homes, none smaller than 1,067 square feet, in Ward 5.
Level 2 also has revised the design of the park, which will be located on D.C.-owned land adjacent to the Highline, to include community gardens, trees and planting areas, light fixtures, lawns, seating areas, a public plaza and a widened sidewalk. The development team will provide up to $600,000 for the design, construction and maintenance of the park, according to its package of public benefits.
Other benefits include a $10,000 contribution to the NoMa Business Improvement District for a Metropolitan Branch Trail safety and access analysis, a first-source employment agreement with the District, the installation of electric vehicle power stations, 105 bicycle parking spaces in a secure room, and a one-time, one-year car- or bike-sharing membership to every resident.
Ward 5 Councilman Kenyan McDuffie is a supporter of the project, he wrote to the commission in February.
"The proposed green space improvements will greatly contribute to the public safety and connectivity of the Union Market and NoMa neighborhoods in Wards 5 and 6, and will serve as a much needed improvement to the overgrown and unkempt District-owned land," McDuffie said.