A look inside Gallaudet University's real estate strategy — and JBG Smith's big role in it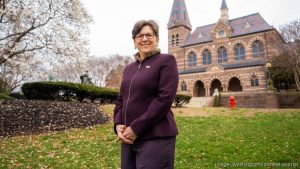 Hannah Denham | The Washington Business Journal
Gallaudet University's ambitious plans, in partnership with JBG Smith Properties (NYSE: JBGS), to redevelop the western edge of its 99-acre Northeast D.C. campus are still in motion but slowed by high interest rates, construction costs and the wait for various regulatory approvals.
In the meantime, the nation's oldest institution of higher learning for people who are deaf, hard of hearing and deafblind has a few other projects to keep it busy — leasing space for its transportation fleet, building a new campus gateway that doubles as a memorial to Black deaf history, and select campus building updates.
But there is nothing bigger than the JBG Smith partnership, the goal of which is to turn parking and construction landing space into 
roughly 1 million square feet of apartments and retail
 centered on Gallaudet-owned parcels fronting Sixth Street NE across from Union Market, between Florida Avenue and Penn Street. JBG Smith controls the site through a ground lease. In filings with the Securities and Exchange Commission, the Bethesda developer lists the estimated number of multifamily units at 820 and retail at 60,900 square feet.
"We started with it being more of them wanting to build a building on our property with Gallaudet benefitting financially," said Gallaudet 
President Roberta Cordano
, who was named to her role in 2016 during the earliest phases of planning. "Since then, we have transformed the vision for this development. Now, we're really creating a neighborhood where Gallaudet is more of an active community member."
There's no groundbreaking date set, as Gallaudet evaluates the credit markets alongside JBG Smith, said Dominic Lacy, the university's chief operating officer. But the planned-unit development has obtained stage two approval from the District, and the development team is moving forward on securing its activation permits so the partners can break ground once construction costs level off, too, he added.
It's paramount to Cordano's real estate strategy that the university opens up more to the broader NoMa neighborhood while still preserving its mission as a deaf and signing community.
"Business community members will experience our signing community. They will experience the ripple effect of the advantages of our community, where we are further expanding and growing outward," Cordano said. "As the community expands and grows, we also have to ensure that we do have a safe space, a safe haven where sign language can not only exist but thrive."
That will include constructing a designated path between the JBG Smith project and Gallaudet's campus, Lacy said. The anchor of what Cordano calls Gallaudet's "new front porch" is the future Louise B. Miller Pathways and Gardens: A Legacy to Black Deaf Children, a memorial designed to amplify the history of a Black mother who fought for Gallaudet to admit her oldest son to the Kendall School on its campus, and won in a class-action lawsuit with other Black parents of deaf children against the D.C. Board of Education in 1952.
"People can come in through that entryway and see the history of the Black deaf community and how it shaped America's history with the Brown v. Board of Education, beginning with Louise's story as a pioneer of educational justice and her tireless fight for her son and other Black deaf children for access to education right here on our campus," Cordano said. "This, I believe now, is transforming from what was just a simple development project to an international tourist destination that will have an impact on the economy and development and tourism right here in D.C."
The memorial will sit at the entryway to Sixth Street from Union Market and include a rectangular water fixture with three rooms and gardens. Boston-based architecture firm MASS Design Group and Minneapolis-based landscape architecture and urban design firm TEN x TEN, alongside the university's Center for Black Deaf Studies, are leading the memorial's design and construction, Lacy said.
The university is currently in the silent phase of its "Necessity of Now" capital campaign, seeking to raise $23 million to cover the cost of the memorial. It will kick off the public phase later this year, and start construction as soon as fundraising is complete, ideally by late 2024, Lacy said.
JBG Smith's development will force the relocation of Gallaudet's transportation fleet maintenance and storage facility, Lacy said, to a new 32,000-square-foot industrial building at 2266 25th Place NE leased from Douglas Development. The university was represented by Lisa Benjamin of Newmark in the deal, and Douglas by a team from JLL.
Elsewhere on campus, the institution has three capital priorities in the next five to seven years, Lacy said: updating its library; creating a hub for student experience that consolidates academic advising, recruitment and enrollment, and the registrar's office all in one space; and replacing older dorms.
The university hasn't decided whether those projects will be renovations or new construction — it will depend on when construction costs stabilize, Lacy said. In the meantime, his team is looking for public-private partnership opportunities to speed up the process.
"We are looking to reinvest in our physical spaces and we are really prioritizing the student experience," Lacy said. "We have been very engaged with really being strategic and targeted over how we are going to allocate our capital budget to support and improve the student experience on campus."