Best Financing Deal: The Stacks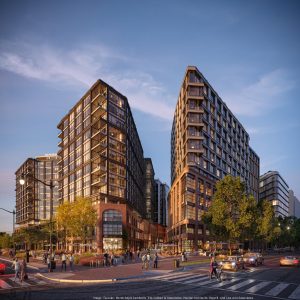 Tristan Navera | The Washington Business Journal
The business case for The Stacks is clear-cut: A vacant 6-acre canvas next to a Major League Soccer stadium in a hot neighborhood, Buzzard Point, that also happens to be a qualified federal opportunity zone.
And that's where any semblance of simplicity ends.
D.C. developer Akridge and partner National Real Estate Development were able to get the $643 million first phase of The Stacks off the ground in 2022 thanks to a $367 million construction loan from Bank OZK.  That paved the way for three residential towers totaling 1,100 apartment units and 35,000 square feet of retail.  Adam Gooch, Akridge senior vice president, and Katie Hartley, National Real Estate director of development, recall a "herculean" effort to get a deal locked down amid Covid chao and recent market turmoil.
Ultimately, Bank OZK closed on the loan in 60 days.  That says it all about the opportunity the financier saw.
"There aren't going to be many more 6-acre sites controlled by one development group to be a part of," Hartley says.  "I think a lot of things that had been part of this vision starting way before the pandemic really aged well and almost were accelerated by the pandemic.  Our thesis of people wanting to be outside.  Our adjacencies to the trail and light and air that comes in Buzzard Point.  Having the views and really working on our design of these towers to afford those views of the waterfront.  And having great rooftop amenities."
The team had been working with Shaun Weinberg's team at Cushman & Wakefield to line up its debt and equity since 2021 – and given all the parties involved, it was a massively complex task, with decisions made over Zoom and email chains with 60 or 70 people at a time from London to Sacramento to D.C. But the developers still felt it was a straightforward pitch: The Stacks is a chance to build big on an undeveloped piece of land and capitalize on activity at the riverfront and adjacent Audi Field.
The lenders saw a placemaking opportunity on par with other huge projects across the District.  Buzzard Point offers a chance to build a neighborhood largely from scratch, south of Audi Field at least, so its retail and community spaces can be designed differently.
"OZK came in and saw this as a really attractive opportunity zone project in a gateway city, and in a neighborhood where it could make a real impact, like Buzzard Point," Gooch says, adding that Clark Construction inked a deal as general contractor in March 2022.   "Joint venture negotiations are never quick or easy, but we were well aligned and wanted to get the project under construction as quickly as possible."
Gooch indicates this was the largest opportunity zone investment Bank OZK had undertaken to this point.  Investors in the Little Rock, Arkansas-based bank can delay or even wipe out capital gains taxes depending on how much they invest, and for how long.  Bank representatives did not respond to requests for comment.
Even in the face of inflation and interest rate hikes, the development team was able to lock in some prices to insulate it from escalations.
Now, they consider The Stacks to be on time – and on budget.