Tishman Speyer secures financing to begin Mazza Gallerie redevelopment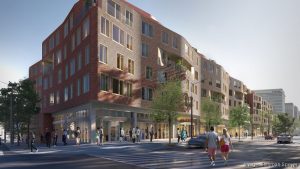 Tristan Navera | The Washington Business Journal
The owner of Mazza Gallerie has obtained the financing it needs to redevelop the shuttered mall.
New York's Tishman Speyer announced Thursday the Friendship Heights property will begin its planned redevelopment into a mixed-use property of 90,000 square feet of retail atop 320 apartments. The aging retail building sits at 5300 Wisconsin Ave. NW in Friendship Heights, on D.C.'s border with Maryland.
The firm said it has secured $150 million in construction financing from Toronto's RBC Capital Markets, and obtained the permits it needed for the project. Tishman Speyer previously obtained $26 million in financing from EagleBank in 2021, shortly after it acquired the 294,000-square-foot property at auction for $52 million.
"With its prime location above the Friendship Heights Metro station on the border of D.C. and Maryland, the reimagined Mazza Gallerie will blend the walkable amenities of downtown living — including local restaurants, shops, grocery stores and parks — with immediate proximity to several of the region's long-standing premier suburban neighborhoods," Tishman Speyer Senior Managing Director Paul DeMartini said in a statement.
The redesign, led by Danish architect 3XN and D.C.'s Eric Colbert & Associates, will take down the three-story mall property and replace it with a seven-story building with the existing below-grade concourse retail and parking to remain. 3XN Partner Jens Holm described the design as "an undulating façade to create movement and visual interest along the Avenue, while also incorporating terraces, courtyards and street-level retail."
The structural demolition of the mall has begun ahead of a planned completion in 2025, the developer said. Davis Construction and Smoot Construction are the general contractors.
Forty of the rental units will be retained as affordable, and the property's amenities include a courtyard pool and sundeck, conference space, a golf simulator and roof deck and event space.
Tishman Speyer said the new 20,000 square feet of retail in the building will seek boutique stores and fast-casual and full-service food options. In the 70,000-square-foot retail concourse, large-format users will be sought, with the T.J. Maxx to remain in place.
Mazza Gallerie opened in 1979 but in recent years was beset by retail closures, losing AMC Mazza Gallerie, Nordstrom Rack and Neiman Marcus, leaving T.J. Maxx as the sole remaining tenant. Tishman Speyer had picked up the property after New York's Ashkenazy Acquisition Corp. defaulted on $67.1 million in loans, triggering a foreclosure sale.